Dear Lasallians
I know that you will join me in offering our prayers and best wishes, to Brother José Román on his appointment by Brother Superior as the new Visitor of the District of ARLEP. He will assume his new responsibilities in September when the mandate of Brother Jesús Miguel officially ends. I take this opportunity, too, to thank Brother Jesús Miguel for his excellent work of animation and leadership during his two terms as Visitor of ARLEP.
I also take this opportunity to thank the District of ARLEP for the very successful conference on the Culture of Vocations which took place in El Escorial last week and for the invitation  to other Districts in RELEM to join more than 240 participants in reflecting on this key element on the future of the Lasallian ministry in Europe.
Fraternally,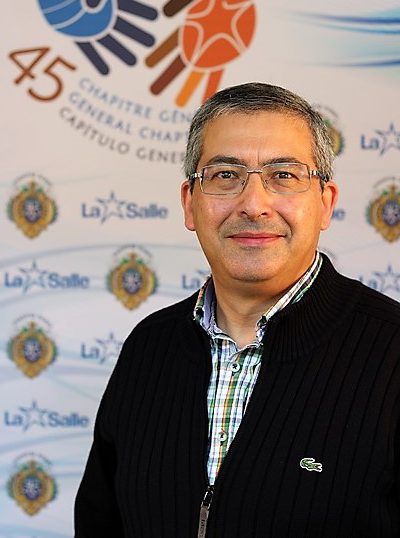 Queridos lasalianos:
Sé que estaréis unidos conmigo para ofrecer nuestras oraciones y los mejores deseos, al Hermano José Román al ser nombrado por el Hermano Superior como el nuevo Visitador del Distrito de ARLEP. Asumirá sus nuevas responsabilidades en septiembre cuando termine oficialmente el mandato del Hermano Jesús Miguel. Aprovecho esta oportunidad también para agradecer al Hermano Jesús Miguel su excelente trabajo de animación y liderazgo durante sus dos mandatos como Visitador de ARLEP.
Aprovecho también esta oportunidad para agradecer al Distrito de ARLEP por la muy exitosa conferencia sobre la Cultura de las Vocaciones que tuvo lugar en El Escorial la semana pasada y por haber invitado a otros Distritos en RELEM a unirse a más de 240 participantes para reflexionar sobre este elemento clave sobre el futuro de la misión Lasalliana en Europa.
Fraternalmente,
Chers Lasalliens,
Je sais que vous m'accompagnez pour offrir nos prières et nos meilleurs voeux au Frère José Román lors de sa nomination par le Frère Supérieur comme nouveau Frère Visiteur du District de ARLEP. Il assumera ses nouvelles responsabilités en septembre lorsque le mandat du Frère Jesús Miguel prendra fin officiellement. Je profite également de l'occasion pour remercier le Frère Jesús Miguel pour son excellent travail d'animation et de leadership pendant ses deux mandats comme Visiteur de ARLEP
Je profite également de cette occasion pour remercier le District d'ARLEP pour la remarquable conférence sur la Culture des Vocations qui s'est tenue à El Escorial la semaine dernière et pour l'invitation aux autres Districts de RELEM à s'y joindre à plus de 240 participants pour réfléchir à cet élément clé sur le futur de la mission  lasallienne en Europe.
Fraternellement,
Aidan